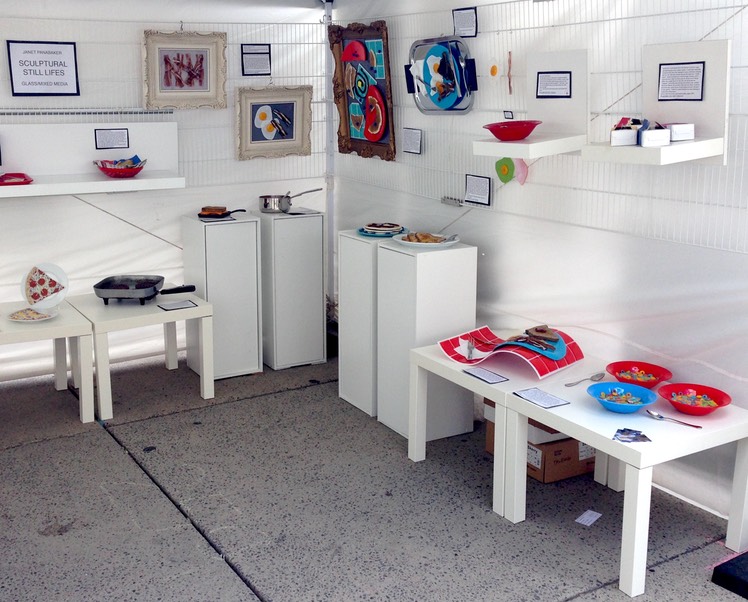 Feel free to drop me a line at info@colourblock.ca. Commissions and orders are always welcome, and of course I am also happy to sell you anything you see on my web page!
Some "loose donuts," macarons, and a few other items will be available for sale at the Shop at the Gardiner Museum in Toronto during the exhibition "Savour: Food Culture in the Age of Enlightenment," October 17, 2019 - January 19, 2020. You can also see two of my works in the exhibit!
Some other "sculptural still lifes" are available at the ARTA GALLERY in the Distillery District, Toronto. 
You can also find my functional pieces and ornaments at the NOODLE GALLERY in Caledon!
The ever-increasing vagaries of summer weather have really put a (very damp) damper on my interest in outdoor exhibitions, but in future you may still find my work at:
GUELPH ART ON THE STREET, 
TORONTO OUTDOOR ART EXHIBITION, 
Follow me on my instagram or facebook pages for more info about shows.
Thanks to their new focus on artisans who cover shipping costs (which I simply cannot afford to do!), I am limiting the items I offer on Etsy but some are stil available:
functional items on my Colourblock Etsy shop: https://www.etsy.com/ca/shop/colourblockglass
and
and sculptural Items (including jewellery) on my Janet Panabaker Etsy shop:
https://www.etsy.com/ca/shop/JanetPanabakerArt
You may also find my glass at:
The Black Wall Art Gallery in Paris, Ontario, http://www.theblackwallgallery.ca/
and the OLA Gift Shop in Toronto, http://discoveryportal.ontla.on.ca/en/visit-us/gift-shop